For someone coming to Florida from out-of-state there are things that might be normal to Floridians that are unheard of for those coming from basically any other state. This makes transitioning to college all the more interesting. Not only is it a transition from home to college life, but it is a completely new way of living.
1. Sunny, monsoon, sunny
It is all fun under the sun until the weather makes a sharp 180 degree turn. The sun is nowhere to be found and the sky turns dark in the middle of the day. Florida's rainstorms are straight out of cliché romantic comedies. Florida is just like a dramatic scene when it pours out of absolutely nowhere.
2. Florida driving
When driving on the highway, being cut off should be expected. Following distance is non-existent. The speed limit is more taken like a suggestion versus a law. Drivers are either painfully slow or dangerously fast. People are not afraid to honk horns because they need to start driving right as the light turns green.
3. Tourists....everywhere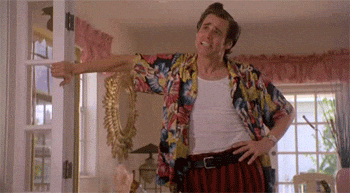 Going to a college where people vacation is a very interesting environment. Tourists are everywhere in sight. Photos are constantly being taken, and it is very easy to end up on someone's Facebook post. Tourists will walk side-by-side and take up the entire sidewalk, even if they know someone is trying to pass them. Hawaiian shirts are a big giveaway. Tourists ask anyone for directions, even if the person they are asking has no clue either.
4. Unexpected wildlife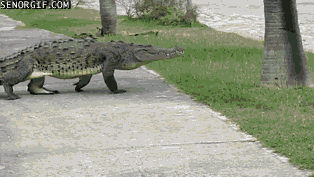 Lake swimming is not advised here. A person swims at their own risk. Alligators can be found in populated places. Floridians are all too familiar with finding one in their backyard, or even crossing the road. When strolling around near palm trees and other tropical plants, expect to see small lizards. Their tails curl up and they range from teeny to hefty in size and are darn pretty cute. Make sure where you walk because these little guys are everywhere.
5. Humidity ruining beauty routines
Don't bother trying to look nice for class. Taming the mane with straighteners and blow dryers can be a losing battle. It will not last, and the humidity will get the best of anyone who tries. Skinny jeans get extra skinny after spending time in Florida's heat. Liquid foundation is not recommended. It melts away and there are only so many blotting sheets in the world. A full face of makeup is suffocating in Florida's humidity.
 6. Walmart around every corner
 6. Walmart around every corner
Never fear… a Walmart is always to be found. If a spontaneous trip is needed to get the essentials, Walmart is open 24/7. It is just a quick car ride away. There are so many to choose from. The options of items to purchase are close to endless. Just ignore the long checkout lines.
 7. When it actually gets "cold" in Florida
People get bundled up when it is 70 degrees. Floridians hastily dig out all of the sweaters from the very back of their closet. They are not looking forward to bracing the cold. While people out-of-state consider this weather perfect for a picnic outside.
Please reload